Safe and Supportive Schools
---
Five Essential Elements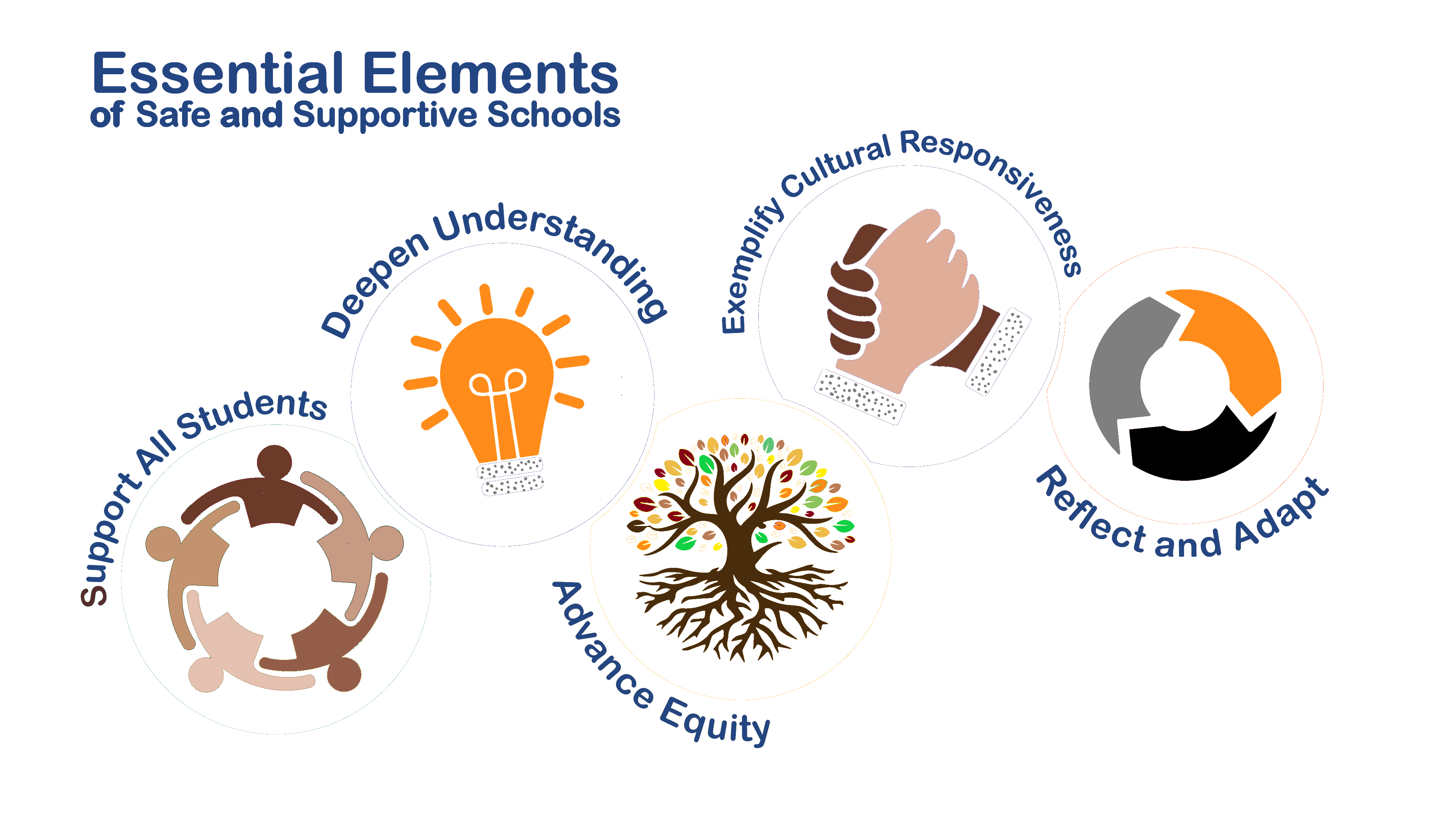 Safe and Supportive Schools Excel in Embedding the Following Essential Elements Throughout the School:

Support all students to:


Feel safe-physically, socially, emotionally, behaviorally and academically;
Build community connectedness and positive relationships with adults, families/guardians, and peers of similar and different cultural, ethnic,and racial backgrounds;
Manage and self-regulate their emotions and behaviors;
Experience a sense of agency and effectively self-advocate in appropriate ways;
Engage effectively and productively with learning experiences;
Develop a sense of competence and academic success with multiple opportunities to learn and practice newly developing skills as part of a productive community; and
Experience physical health and well-being.
Deepen Understanding of all stakeholders of the need for safe and supportive schools and using a whole-school approach that values the expertise of educators and includes the voices of students and families, and acknowledges the urgency for addressing systemic inequities, including racism, trauma's impact on learning, and other systemic issues.

Advance Equity, including racial equity, across the school and community for all students, families, and staff by addressing systemic inequities, eliminating predictable disparities, and ensuring students are engaged and challenged to achieve their fullest potential.

Exemplify Cultural Responsiveness in the school and community to value students' identities and dismantle implicit biases and systemic inequalities in order to create learning environments that welcome, include, and support all students to deeply learn, grow, and thrive.

Reflect and Adapt to the ever-changing needs of students, families, and staff and the surrounding community by working together as a team with a sense of shared responsibility for all.